PLAZA MONT'KIARA
Plaza Mont'Kiara is an impressive landmark right at the entrance of the prestigious Mont'Kiara enclave, which is one of the hottest address in Kuala Lumpur, Malaysia. It is the one and only kind of its own and it has been coined "The Resort Office", as its unique concept of combining an office complex with resort-like facilities for a new business lifestyle. Plaza Mont'Kiara is a mixed commercial development comprising 570 units of commercial and retail stratified lots.
Office Blocks
Featuring a total of 5 blocks of 10- to 18-storey office with various office suite sizes catering to varying spaces needs, tenants/occupants have the flexibility to design the floor layouts to suit their respective requirements.
The office blocks are equipped with centralized air conditioning systems for common lobbies and corridors; and individually air conditioning systems for individual office suites that can accommodate varying work hours and is supported by high-speed broadband capabilities.
At Plaza Mont'Kiara, you will be able to work in an environment which is far more conducive than an ordinary office. Here, the spectacular views of the serene, undulating hills surrounding Mont'Kiara and a more than 38,000 square feet central courtyard of Plaza Mont'Kiara with fountain and fish ponds, allow you to find the tranquility for inspiration naturally.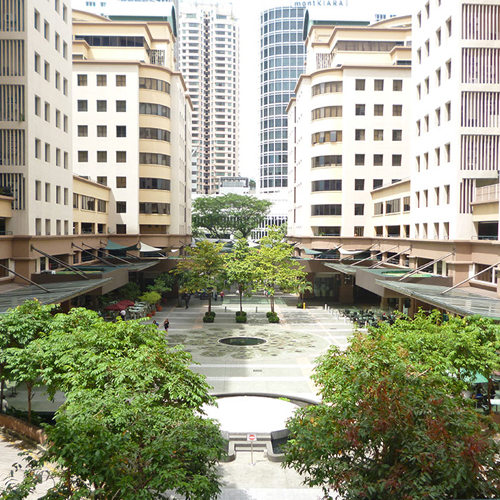 Retail Outlets
The combination of the retail podium with more than 40 retail outlets with mutually complementary office blocks brings about a vibrant environment for business, shopping, dining, learning or just relaxing all in Plaza Mont'Kiara. A host of well-known retails and Food and Beverage outlets, public amenities, local and international banks are all within easy reach of the office that give the occupants and visitors the convenience with the perfect blend of comfort and variety at Plaza Mont'Kiara.